The ability to consider dimensions of
race
and
class
is vital to speculative exercises.
Except, "class" in the social-studies sense; concerning wealth and hierarchical position in a society, is a matter of
setting
rather than
rules
. While character class is a rules-device which creates a handy template for a character's powers and advancement. Though character-class distinctions sometimes
do
bleed over into setting when you think about it.
Race is hard-wired into most rule sets as a key element of character creation. Being able to choose a race with special abilities creates new tactical possibilities and opportunities. (and concrete rules-based distinctions are vital for giving teeth to the setting based distinction-the color text) What interest me more is that the inclusion of fantastic races (or species) allows SF or fantasy to be a vehicle to explore racial dynamics.
http://tvtropes.org/pmwiki/pmwiki.php/Main/FantasticRacism
In practice though, the most that you will usually get out of this is the Tolkien-mandated elf/dwarf schism.
If this is annoying, it is a necessary annoyance. You can't do away with fantastic races because they
can't
be done away with. I am a believer in Jung and the theory of the
archetypes
. If we didn't have elves and dwarves in D&D, a supplement containing rules for fantasy races would be published inevitably and soon.
I will however, gladly
fiddle
with the races.
Here is a spread of fantasy races which I have chosen to be widely applicable to settings in many times and spaces:
Humans
:
The basis against which all other races are compared. They don't have any superpowers, so rules-sets have to make up bullshit about how humans advance more quickly or get more feats or whatever in order to balance them in terms of gameplay, or make some dubious statement about the potential of humanity.
Most systems shy away from creating sub-races of human with concrete rule-able differences. Publishers would prefer that racial dialogue occur in the realm of sanitized metaphor. Otherwise, we might be reading the Players handbook during banned book month. Can you imagine?
They also shy away from making rules which represent the concrete, statistically demonstrable differences between the sexes. Back in the 70s when they did try to do this, the results were
just embarrassing
. As Jon Peterson describes with circumspect academic detachment
here
.
I think a politically correct (and possibly actually correct) solution for human subtype is to attribute subtype to culture rather than genetic inheritance to culture. Perhaps some mechanic like granting a human a free professional skill or bonus to a given weapon type based on their cultural origins.
Still pretty lame compared to darkvision though...
Alfar
:
Tall, haunting, otherworldy. Ostensibly humanlike, yet undeniably alien. Some mythologies hold that Alfar are the servants of the gods. Others claim they are a branch of humanity which sojourned among the stars for so long that they evolved into a separate species. Alfar are long-lived and give their attention to lofty concerns and long-term plans. They are generally benign, if inscrutable.
Alfar are meant to stand for elves in the sense of divinely touched or enlightened otherworlders. The name comes from the semi-divine figures of Norse Mythology which Tolkien was trying to reference. In terms of rules, they get bonuses to wisdom and perception and lore. Probably ultravision too. But I don't see them as particularly suited for combat.
Googled "space elves." This came up. Not what I was imagining, but still pretty close to the mark.
Ape Men
:
Another advanced primate. These fellows have made developments in language and technology, but have retained the physical ruggedness and dexterity of arboreal scavengers. They relish technology and science, but they are given to Faustian arrogance and
Naïve Realism
.
They get bonuses to survival, can eat rough food or raw meat. They are impartial to filth. They get bonuses to dexterity and raw intelligence, but suffer on wisdom. Low light vision.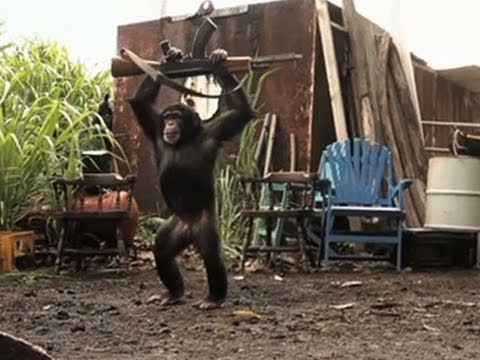 The Dungeon Master stared into nowhere.
After a long moment, he murmured softly "I'll allow it."
Duergar
:
Also adapted from Norse mythology, the Duergar are dark, ugly humanoids who live in hidden delves in mountains or deep in the earth. They may be otherworldly creatures, or a branch of humanity with something like congenital Aspergers and physical deformity. They are keenly aware of their ugliness, and are jealous or contemptuous of the beautiful. An expression of this jealous obsession is their talent for invention. Their workmanship is fine to say the least and may represent whole levels of technology above the status quo. They use their craft to bargain with the outside world. There are mythologically parallel to the god Hephaestus.
Bonus to intelligence and possibly constitution, big hit to charisma. Bonuses to lore or crafting skills Darkvision of course.
Eloi
:
Ripped from H.G Wells. The Eloi are a branch of humanity evolved into a state of congenital decadence. They are gracile, attractive sociable and charming. But they are bred to tolerate only an extremely easy standard of living, and are not good at fending for themselves in harsh environments. They tend to be communal and kind, but are not given to deep or analytical thought. They do have an instinctive sense for aesthetics though.
Bonus to charisma, slap to wisdom and strength. They have an inborn artistic ability. Some are nonverbal, but can still communicate clearly through painting, drawing or musical intonation.
Florensis
:
A subspecies of human. an adult
florensis
is about three or four feet tall. They live apart from full-sized humans, of whom they are typically suspicious and fearful. Their small size is both a liability and a great evolutionary advantage. Though they suffer in open conflict, and are easily victimized by larger humanoids, florensis have a knack for sheer survival. Their small size allows them to thrive in environments where food or water are not sufficient to sustain full-sized humanoids. In these wilderness fringes, they make their communities. Florensis are adaptable to their environment. They often make homes underground or in trees. Their structures emphasize concealment and defensibility.
They are not stout, lower-middle class bumpkins
. Florensis who adapt such ways do not live long or well among "biggers."
Florensis fill the obvious niche of the Hobbit. They also cover the idea of elves-as-flighty-treedwellers. They get bonuses to dexterity and constitution but are not as strong as full sized humans. They have a cultural training which gives them bonuses to survival. Florenses of warrior or hunter persuasions are proficient with the use of poisons, and can derive them from local sources.
A pack of Florensis lead an unsuspecting "bigger" to dinner.
Morlock
:
The dark counterpart of the Eloi, also ripped from the Time Machine. The Morlocks are bestial, nocturnal humanoids who are given to savagery. In almost all histories or mythologies, Morlocks are an offshoot of humanity. A racial history of abuse and intentional perversion at the hands of a greater, evil power has warped them into their current state.
Morlocks fill the role of orcs when orcs are depicted as beings of pitiful, helpless evil. They get strength and constitution bonuses, penalties to intelligence and charisma, and Darkvision.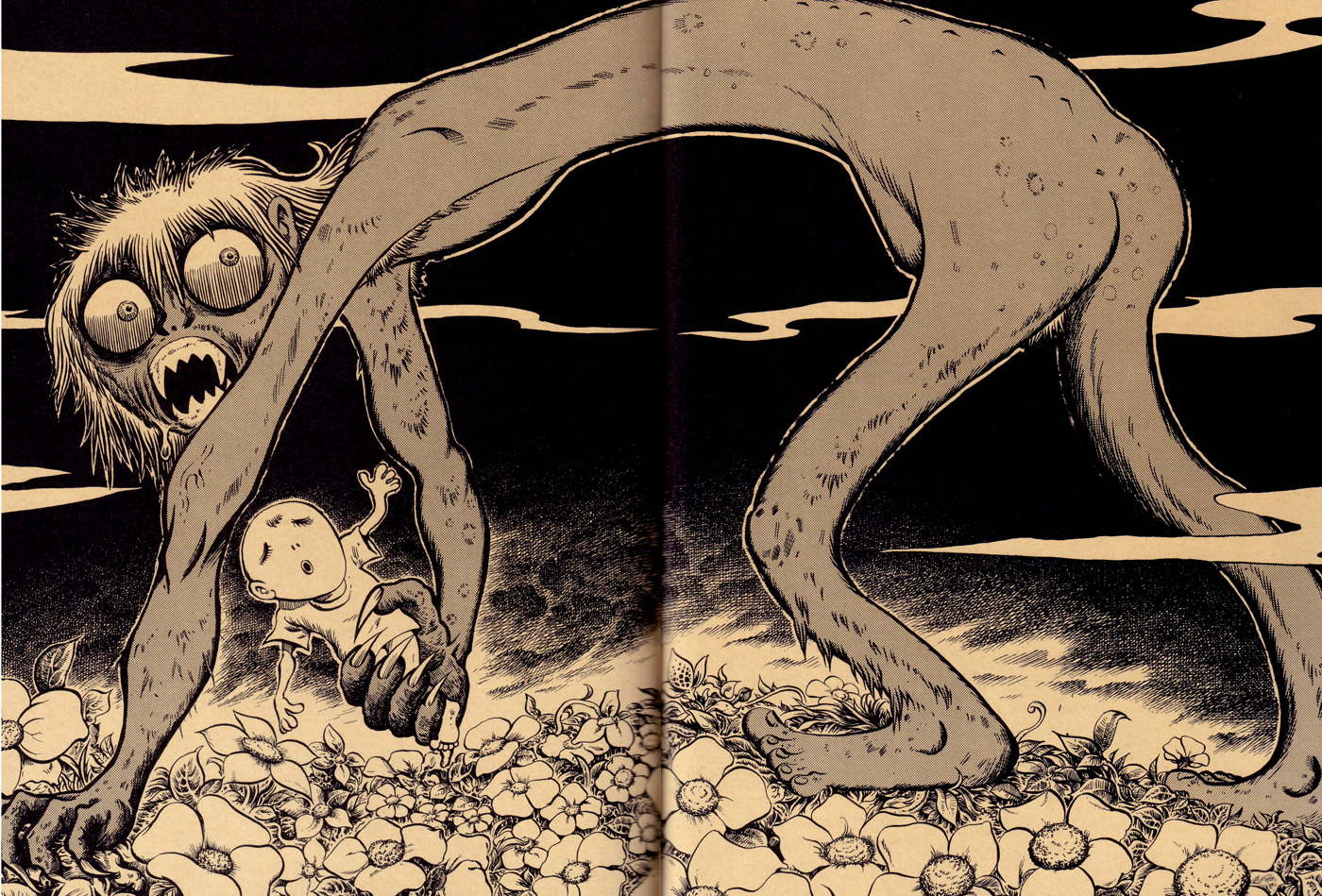 Am I seriously considering this as a base player-character race?
Terrifying illustration from "Kaibutsu Gensō Gashū" by Tatsuya Morino
Neanderthal
:
A cousin-species to modern humans. They are intelligent and capable of breeding with humans. Neanderthals are suitable for depicting a race of noble savages. They can fill the role of revisionist-history orcs-as-good-guys.
Anthropologists have come to understand that Neanderthals were extremely strong compared to modern humans. As a matter of culture, their senses would have been better trained. They were intelligent and capable of using technology. Some would say they were smarter than us. Yet their artistic sensibilities were not as keen as the homo sapiens-sapiens. Penalty to charisma. Low-light vision
Other races which tempted me, but didn't make the list:
Robots: synthetic entities are indispensable to sci fi. But the potential range of forms and capabilities which one might possess are simply too wide to fit into a single race description. Also, you would need a whole ruleset for governing characters who are
not
made of meat
Celestial: humans with a slight admixture of benign otherworldy being. The concept of an angel or something like that is simply too broad to give any notion of what a half-breed would be like. For instance:
Nephilim: in the apocryphal books of the bible (
Enoch section 1 chapter 6, for instance
) it straight up tells that otherworldy beings bred with human women and created a race of giants. Or rather, in this case, gigantism was the result of this breeding. And the giants were ravenous monsters who ate people. We nearly went extinct from this. This is not what someone might normally expect of a semi-angelic being
Tiefling: The D&D standard for human with demonic or devilish heritage. They come in two versions; the super-weak might-as-well-play-a-human version, and the god-awful overpowered splatbooksterbation version. Once again, the Tiefling is an odd specification of something that could be
anything
.
Also, this spread of races above is chosen with an eye towards settings with cosmology of vast scope. So to say "This is an angel. This is a demon." right at the beginning of the rulebook seems shortsighted and self defeating.
To quote
Gene Wolfe
, "An angel is often only a demon who stands between us and our enemy."

"I'm an angel."
The Azrohim: My babies
don't really fit above. They are generally more powerful than the races set forth above because they are designed with race-as-class in mind. They are also very specific to the setting which they were developed for, while the above-listed are meant to be generally applicable.
So there you are
;
This is what I've been thinking about races. The idea was to take the entrenched stereotypes back a few steps; to strip off a few layers of gamist munchkinism and Tolkienisms, to squeeze out a few races which are more suited to broad use though various science-fantasy milieu. The rules have been left vague because I don't want to the ideas restricted to a single, crappy system.
If you have any distinctions or suggestions to make, please comments.